Some sailors believe that there is no such thing as the cheapest boats to sail around the world.
They argue that any boat going for cheap is nothing short of a death trap that won't hold up well to the full.
If you think about it, though, some affordable boats feature strong builds that easily live through storms at sea,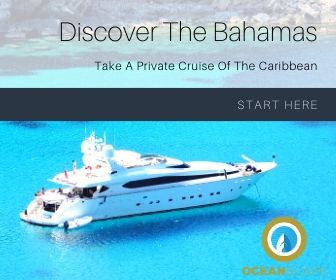 and that means they can handle even in much bigger winds and waves.
Take Contessa, Tayana 37, and Amel Maramu boats, for example. These are some of the most inexpensive boats out there.
While they are 25+ years older, they are available in good condition and go for around $50,000. If you're lucky, you can get one for much lesser this value.
If you can find an inexpensive, 30 to 45 feet boa t with a strong hull, a decent ballast ratio, and a strong rig, you are all set. 
3 Cheapest Boats to Sail Around the World
1. Nauticat 44
Built in 1980, the Nautica 44 is a robust boat that measures 13.65 meters long and 3.70 meters wide.
Its hull goes into water 1.85 meters deep, giving it the stability necessary when on cruise.
Unlike other sailboats on this list, the Nauticat 44 comes with a dual wheel control steering to help you take directions on water.
Step aboard and what invites you is a spacious interior that can accommodate up to 10 people.
You can fit at least 4 beds in, making this an ideal one for a family that large.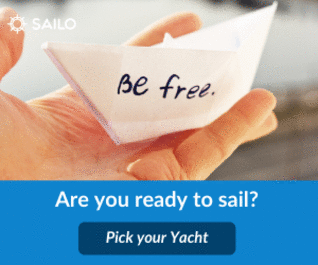 It includes 2 bathrooms and a Blake manual under water toilet.
There's a fresh water tank that can hold up to 757 liters of water, enough to quench your family's thirst for some weeks while on the blues.
There's a Vitrifrigo 12v fridge for keeping fruits and vegetable fresh as you sail.
There is a Sony radio/cd player with outside speakers that will keep you entertained throughout the voyage.
Nauticat includes a fire extinguisher for safety. While a fire outbreak is the least of the worst to expect on your voyage,
you will need an extinguisher to put out the fire just in case.
The boat also features 3 automatic lifejackets that will ensure you are safe on the surface in case of an accident while sailing.
The boat use both wind and diesel to maneuver over water. The tank can hold up to 950 liters of diesel.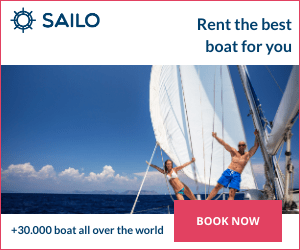 The engine on the other hand is a performer with 1 x 103 horsepower. The boat can stand still on water with the help of the CQR anchor that has a 50 meter chain.
Read: Best sailboats under 25 feet
2. Fantasi 37
Fantasi 37 is a blue water yacht first designed by Knut Jacobson and later handed to Fantasi Yachts, a boat company that completed it between 1974 and 1988.
The boat is 11.2 meters long and 3.45 meters wide and has a hull that goes into water up to a depth of 1.75 meters.
Fantasi 37 features a 74.80-inch standing headroom, which is enough for an average human.
It has a furling system that hoists the jib when in use and headstand that folds when the jib isn't in use.
It has 3 cabins, which can house up to 7 beds, and there is also a bathroom with constant flow of water.
The boat's water tanks can hold up to 200 liters of fresh water, which is enough to keep your body hydrated while you sail around the world.
Apart from running using wind, the boat can run on Diesel.
The tank can hold up to 175 liters of diesel, and with the 40 HP engine, the boat is able to cover greater distances within short period.
There is a mechanical steering wheel control that allows you to turn the boat as you sail around the world.
Read: Lightweight sailing dinghy
3. Vindö 50
Designed by Anderson and built by Nötesunds Varv AB in Sweden, Vindö 50 sailboat is about 10.65 meters long and 3.10 meters wide,
large enough to accommodate up to 6 beds and features a Classic mahogany interior.
The Vindö 50 also includes a single bathroom, 2 spacious cabins, and a water tank that can hold approximately 200 liters of water,
which is enough to keep you thirst-free as you sail around.
Vindö 50 features a Morse engine control with water separator and direct cooling system.
Powered by diesel and rated at 35 HP, the Volvo Penta M17C engine will run the boat for up to 235 hours.
You can also sail the board by wind power using the roller furling system.
Because it has a 1.60-meter draft, Vindö 50 should be stable enough to handle a number of storms.
At least with the mechanical steering wheel control, you can keep the boat sailing in the right direction even when the sea gets rough.
The Vindö 50 introduces a compass, Hagenuh VHF and the VDO logs to ensure easy navigation to the desired destination.
A cockpit cover made of nylon and a complete cover for the entire boat are included to ensure no water leaks inside
when it rains and the window is made of hardened glass with wooden frames and ensures proper lighting in the boat.
You can walk and stand comfortably thanks to the 1.88 m headroom. There's also a Blake manual under water toilet and two anchors that will ensure the boat stays still when at the berth.
Read: Best place to live on a boat in the caribbean
There aren't so many cheap boast that can weather the storm at sea. So you need to be very careful to not just pick one simply because it cheap.
We suggest that you look for someone with a lot of experience with boats to help you find a design that can be suitable for you.
Note that these sailboats are smaller than cruising yachts.
And given that they come at affordable prices, they are the cheapest means by which you can cross boarder through waters.
In addition to being easy to operate, sailboats tend to be easier to maintain.
Read: Ocean liveaboard boats